It's thrilling to switch from smoking to vaping, but it may be overwhelming to choose the correct equipment and e-liquid. Purchasing a high-quality disposable vape is a great way to kick off your vaping experience. Disposable vapes are great since they're simple to use and portable, yet they still deliver on taste enjoyment. If you're trying to save money, a longer-lasting device is a better bet; in this article, we'll discuss the aspects you should prioritize when shopping for a disposable vaporizer with the longest lifespan.
How Should One Choose the Best Disposable Vape?
A disposable vape is a good option if you want to give vaping a try but don't know where to begin. Because to its one-time usage and lack of setup and maintenance needs, disposable vapes are ideal for vaping newbies. Yet, there are a few things to keep in mind while picking out the best disposable vape for you.
1.Flavor options: Different disposable vapes come with different flavor options, so it's important to choose a flavor that you enjoy.
2.Nicotine strength: Disposable vapes come in different nicotine strengths, so it's important to choose a strength that suits your needs. If you are a heavy smoker, you may need a higher nicotine strength, while if you are a light smoker or a non-smoker, you may prefer a lower nicotine strength or a nicotine-free option.
3.Battery life: Disposable vapes have a limited battery life, so it's important to choose one that will last as long as you need it to. Look for options with larger battery capacity if you want to use it for extended periods.
4.Price: Disposable vapes vary in price depending on the brand and features, so it's important to choose an option that fits your budget.
5.Brand reputation: Consider purchasing from reputable brands that have good reviews from previous customers.
6.Device design: Some disposable vapes may have unique features such as adjustable airflow, size, and shape which can impact your overall experience.
7.Environmental impact: If sustainability is important to you, consider choosing an eco-friendly disposable vape that is recyclable or made with biodegradable materials.
Remember to always use disposable vapes responsibly and follow the manufacturer's instructions to ensure a safe and enjoyable vaping experience.
Top 5 Longest Lasting Disposable Vapes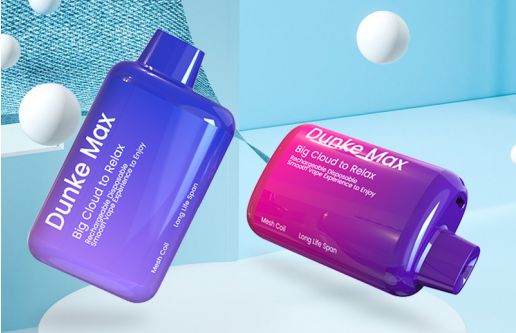 Dunke Max disposable vaporizers are strong and powerful, yet disposable when you are done! These options are ideal for those who want a delicious rip from their favorite high-quality liquids without having to deal with messy filling or cleaning. The Dunke Max Disposable Vape is perfect for providing a convenient puff on-the-go or at home. The Dunke Mega Disposable Vape can produce up to 6000 puffs, so you can get all the vapor and taste you want without having to worry about cleaning it afterward.
With its powerful design and single-use convenience, our Max Disposable Vape provides the ultimate experience. This gadget is ideal for individuals in need of a reasonably priced portable vape thanks to its mesh coil design. The Dunke Max 6000 Puffs Disposable Vape features a maximum capacity of 650mAh, giving you plenty of battery life for continuous vaping throughout the day. Dunke Max Disposable Vape is constructed from premium components and delivers unparalleled performance. This disposable Dunke Max 6000 Puffs vape is great for both new and experienced vapers because of its high capacity and extended service life.
Take advantage of the Huge Cloud to Relax and have the time of your life. The best vape for the money is right here. It's a disposable e-cig, but it puts out a lot of vapor, doesn't leak, and works right up until it's dry. If you're searching for a dependable and easy-to-use vape pen, go no further than the Dunke Max 6000 Puffs Disposable Vape. With 6000 puffs, Dunke Max is the ultimate experience. This disposable vape delivers the rich, flavorful vapor you've been craving.
Elf Bar BC 5000 Ultra
Because to its lengthy battery life and high-quality vapor output, the Elf Bar BC 5000 Ultra has quickly become one of the most sought-after disposables on the market. Users may tailor their vaping experience with this device's adjustable airflow mechanism and its capacity of up to 1500 puffs on a single charge. Elf Bar e-juice comes in several tasty flavors, including strawberry lemonade, pink lemonade, and menthol ice.
SWFT 5000
The SWFT Mod 5000 is one of the newest disposable vapes on the market, but its lengthy battery life and distinctive appearance have contributed to its rapid rise in popularity among vapers. This cutting-edge gadget stands out from the crowd with its strong 3000mAh battery and stylish appearance, allowing for up to 2500 puffs on a single charge. It comes in a variety of delicious flavors as well!
LUCID Air TFN 5000
Last but not least, we have the LUCID Air TFN 5000, which not only has a larger capacity than competing disposables but also has a special True Flavor Nicotine (TFN) composition that guarantees maximum taste with every puff. This gadget can provide up to 3000 puffs on a single charge, making it ideal for individuals who want to enjoy a lengthy vaping session without worrying about running out of power or having their device die in the middle of it.
---
Post time: Mar-17-2023